Perfect for summer tourism
Bike parks and trails
A bike park is a designated area of land where various mountain bike trails are purposefully built. More and more ski resorts are expanding their offerings to year-round tourism by constructing mountain bike trails, especially in lower-lying mountains where we have seen a decrease in snowfall in recent times. The park provides a healthy way to engage in physical activity that not only brings endless joy and satisfaction but also enhances the user's speed, balance, physical and mental strength, coordination, and precision.
We offer our clients the development of a bike park from initial consulting to the final steps of additional promotion, which every newly designed project requires. Our team continuously educates themselves with each project, and we are advocates of sustainable, progressive, and safe mountain bike infrastructure.
Key elements of
A good Bike park
1. Safely designed mountain bike trails.
Frequently mentioned topic that can outweigh severe injuries to guests as well as damage to their bikes and the trail itself. We must prioritize safety on the mountain bike trail, as well as around the biking path. In parks, it often happens that due to fatigue or a moment of inattention, someone unintentionally rides off the trail. By ensuring safety around the trail, we reduce the risk of accidents.
2. Regular maintenance of trails
Regular trail maintenance is crucial as it ensures added safety and provides users with the best experience. Sometimes a daily inspection of the trails prior to visitors' descent is sufficient.
3. Friendly staff
In larger Bike parks, sometimes the park staff forgets that some riders may be less experienced. It is crucial that all employees know: - the park's vision - the different types and locations of trails - and are ready to assist users who may need help. For example, one of the most important forms of assistance is evident when a user needs help loading their bike onto a moving chairlift.
4. Additional MTB infrastructure
By adding dedicated infrastructure for bikers, we create a unique atmosphere. Various services such as bike shops, bike racks, bike wash stations, and more can elevate your park to a higher level and enhance guest satisfaction.
Do you need help with the maintenance of the trails?
We've got you covered
The most common problem faced by almost every Bike park is maintenance. If you are dealing with this issue and need assistance with maintaining your infrastructure, you are in the right place. Our team of experienced mountain bike trail builders can help you.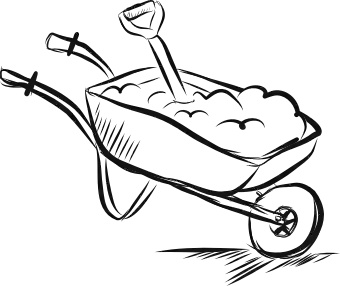 Consultations on addressing the constant wear of specific sections of trails.
When there is constant wear and tear on specific sections of a trail, it signifies something. Typically, it indicates a poorly designed trail from the beginning, often constructed without careful thought and planning. As a result, certain sections of the trail do not accommodate the appropriate final speed for an average rider or the intended riders. Due to this miscalculation, riders carry excessive speeds into these sections, further increasing trail erosion.
Would you like to teach your employees how to maintain mountain bike trails?
We are aware that acquiring the knowledge for maintaining a bike park can be challenging. That's why we offer training that will familiarize your employees with the tasks of daily maintenance and complex maintenance. The course will prepare your employees to tackle and solve issues such as drainage and repair of water channels, removal of stagnant water on the trails, patching holes on the trails, restoring turns, and more.
Documentation
Our experts can provide you with:
Conceptual design
Site feasibility study
Location selection and site assessment
Financial analysis
Construction documentation
Permitting
Planning
Safety plan
Documentation of the safety plan
Sent to the nearest hospital
Graphic design created
Placement of points in the field
Signalization
Graphic design of informational signs (option to use your own corporate graphic profile)
Additional marking signs
Educational signs (suitable for the skills area)